Welcome to CAHAM
CAHAM is an organization comprised of Admitting Managers, Admitting and Registration Staff and Directors of Admitting and Patient Financial Services who wish to further their education through seminars, workshops, networking and conferences. One of the best ways to keep your Admitting, Registration and Financial Services staff abreast of contemporary operational flows and organizational models is to encourage membership in CAHAM.
Since 1967, CAHAM has offered membership in an exciting, networking organization designed to keep you on top in your chosen profession.
Join CAHAM
Membership is open to all that are interested in keeping up with today's rapidly changing healthcare industry.
Many benefits are available and our invitation for you to become a member awaits your acceptance.
Membership Directory
Regional Seminars - offered to members at a reduced rate
FREE Regional Networking Workshops
Annual Education Conference and Exhibition
E-mail updates and reminders for CAHAM events and industry news
Information regarding career opportunities
The California Association of Healthcare Admissions Management (CAHAM) is officially recognized by the California Board of Registered Nurses, the National Association of Healthcare Access Management, California Healthcare Association, and the Hospital Council of Southern California
CAHAM Announcement

On behalf of the California Association of Healthcare Admissions Management (CAHAM) Board, it is with great pleasure to announce the appointment of
Edward Din
as the new Vice President for CAHAM. Mr. Din is currently employed with Cantu Management Group, Inc., a Revenue Cycle Management company in Bakersfield, California, where he serves as Director of Patient Access for Kern Medical, a 222-bed public hospital providing Level II Trauma services to the region. Kern Medical is also a teaching hospital affiliated with UCLA and Ross University Schools of Medicine.
Mr. Din has worked for acute care hospitals, clinics, and health systems for 40 years, and has held leadership roles in Patient Access and Patient Accounting for Optum 360, Dignity Health, the Hospital Corporation of America (HCA), Tenet, Grossmont Hospital, and Watsonville Community Hospital.
Mr. Din has been active in his community, having been elected to serve on the Watsonville City Council, Watsonville Community Hospital Board of Directors, and Chairman of the Board for the Pajaro Valley Community Health Trust and the Santa Cruz County Latino Affairs Commission. He has also volunteered with several other community-based organizations and projects.
Mr. Din attended his first CAHAM conference in 1987 and was the recipient of CAHAM's Carl Satterfield Award in 1999. Mr. Din received his Certified Healthcare Access Manager (CHAM) certification in 2003.
When he is not working or performing community service, Edward enjoys wine tasting, hiking, festivals, and spending time with family, especially his three grandkids, Emma, Noah, and Jerome.
Please join us in welcoming Edward Din to his new position of CAHAM Vice President!
4/11/2019
Carl Satterfield Award 2018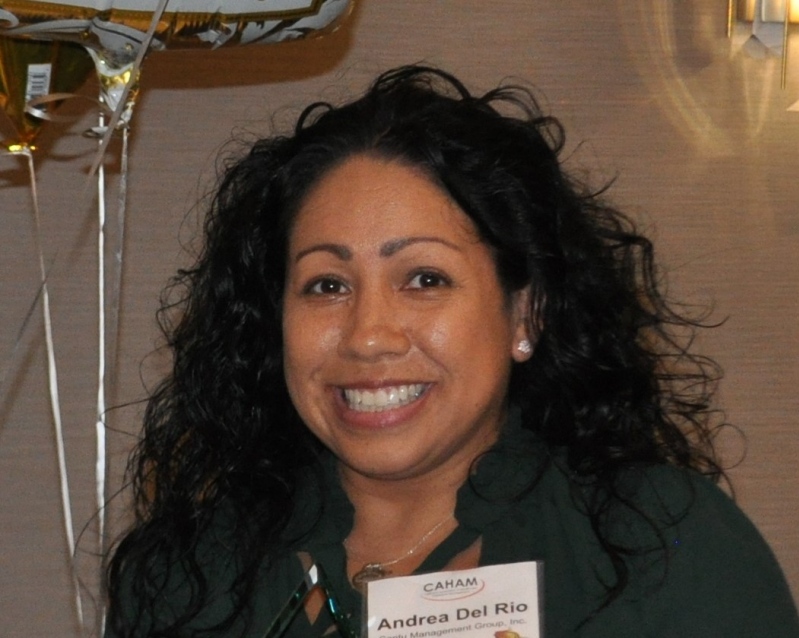 Andrea Del Rio
Cantu Management Group